Been a while, but yo, I'm on holiday fuckers. Back in Chile with a nice little
cerveza aresanal
after a whirlwind tour of this continent.
After an exceptionally enjoyable week in BA, la embarazada and I headed up to Iguazu to spent some QT with the world's greatest waterfall. Exceptional Q it was too, thousands of megalitres of water rushing over this small gorge each second, covering everything within 100 yards in fine spray and hurling rainbow after rainbow into the sky.
Staying on the Argentinian side of this monstrosity enabled me to continue my
carne
endulgence—in the form of metre-long swords of meat barbecued to perfection—and to finally get my groove back with the lingo—in the form of a longneck or two of Quilmes and a good solid hour of smalltalk in the black market backstreets of Puerto Iguazu.
And then on to Brazil. Ah Brazil! Such a big thing, the nation, the concept. Strangely orderly buses, an obscure language that sounds like Russians speaking French, no smoking indoors, comunist stylee docket systems, and, unfortunately, a race that looks as you´d expect a mixture of short hairy Portuguese, native South Americans and strapping negroids to look like—not anything to rival their southern neigbours, that´s for sure. I'll say it now: Sao Paolo is a dump. 20 million odd people in a metropolis not much more than 120 years old. No street life, ugly grey highrises, undeciferable language. But the point of our excursion lay in this city, and it was exceptionally fulfilled: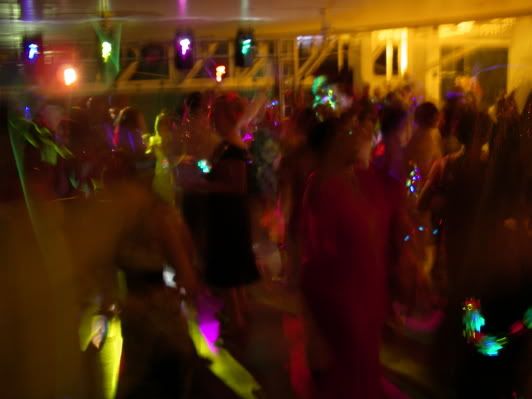 And then onto Rio. Not a city I had much expectation of after the disappointment of our other Brazilian destinos. But low expectations are the easiest to exceed, and exceed they did. This is where all the Brazilian hotties hang out. On the streets. In their togs. Whiling away their hours sucking down
sucos
and playing hands-free volleyball on the beach. Do these people have anything resembling a job? Do they need one, these lithe latte-coloured laydeez and buff brown blokes? None of the class of their Argentine brethren, but what they lack in class they make up for in brawn. Even if their language is undeciferable. They pronounce the name of their city "Hee-oh" for fuck's sake.